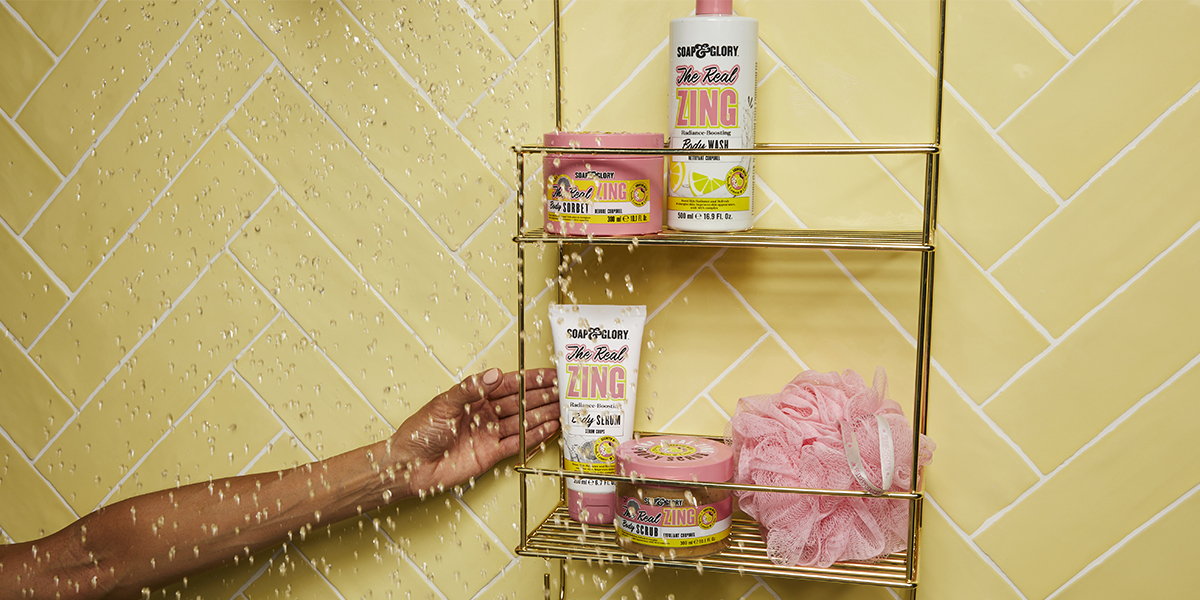 5 Tips To Help You Revitalise Your Zest For Life
Guess who wakes up with a permanent pep in their step, a never-ending supply of get-up-and-go, a boundless capacity for vim and vigour?
Literally nobody, ever. Before we share some vivacity-boosting tricks of the trade, it's important to make that very clear. And if you think you know somebody who proves us wrong, please encourage them to take several deep breaths and have a nap.
The fact is, in the turbulence of the past few years, mornings can be tough. Like, really tough. Many people* have said they've felt lethargic and struggled with 'brain fog' ever since the world started changing. Trying to snap our fingers and spring back to our energised, upbeat selves? Not so easy. 
But here at Soap & Glory, we like to think that prioritising moments of joy in our routines is the key to starting the day with a zing. 
Turns out, we've got science on our side too. The facts show that a good morning routine repeated daily can help us cope with change, create healthy habits, improve interpersonal relationships, and even reduce stress*.  
So, it's important to inject as much self-care into our routines (including our morning body care routine) to re-energise and ZING FROM WITHIN. Not sure where to start? We've got you covered.
1. LISTEN TO UPLIFTING MUSIC 
A study* found that people who intentionally listened to upbeat music improved their moods and happiness in just two weeks. So, why wouldn't you make it part of your morning routine? 
Try 'setting up your alarm to play a happy song that makes you feel joy, then pop a playlist with the same vibe on once you're up and at it. We don't recommend setting up your favourite song though… that's a sure-fire way to ruin it! And we beg you – please leave Pharrell's "Happy" in the summer of 2014 where it belongs.
2. Have a nutritious breakfast and a refreshing drink 

We recommend a tall and icy glass of water with freshly squeezed lemon, or your favourite juice or smoothie with some added lime.

Eating or drinking citrus fruits like lemons and limes in the morning will give you a healthy boost to get your brain going and start your day off on a positive note. Plus, we like to imagine it makes our gloomy mornings ever so slightly more tropical. 
3. DO YOUR FAVOURITE WORKOUT 

We know, we know. None of us want to admit it, but it turns out exercise is really good for you. Quelle surprise! If you have a favourite workout, start incorporating it into your morning routine for an instant energy boost. Plus, all the endorphins you release after a workout – those ones that feel like a warm hug from the inside – are not to be sniffed at. 
4. GET SOME FRESH AIR 
You know how flowers get their energy from the sun? We're not really all that different. And the further we get into 2022, the more sun we can see peeking from behind the clouds. 
Make the most of the gorgeous Spring and Summer we're due to have by moving your exercise outside or going for a walk to re-energise after a workout. Catching rays and feeling the sunshine on your face will automatically make the day seem brighter. 

5. Have an energising shower
Whether you're a hot shower (yes, please) or cold shower (how do you do it?) person, washing your body and allowing your head to soak under the water fills us with more energy. Energising shower pros recommend alternating between water temperatures during your shower to help yourself wake up faster.
Extra tip: If you have a waterproof speaker, we recommend bringing that uplifting music into the bathroom with you too. And okay, fine, if you really love "Happy", we'll allow it.
There's no time like a shower to incorporate those energising citrus fruits too. Keep the energy you got from your morning lemon or lime water going strong by using zest-based shower products in your body care routine. We might just have a few in mind…
Introducing our new The Real Zing range, here to help you restore your zest for life! From fragrances to body wash and body lotions, experience next level zing with a burst of refreshing lemon, lime and neroli.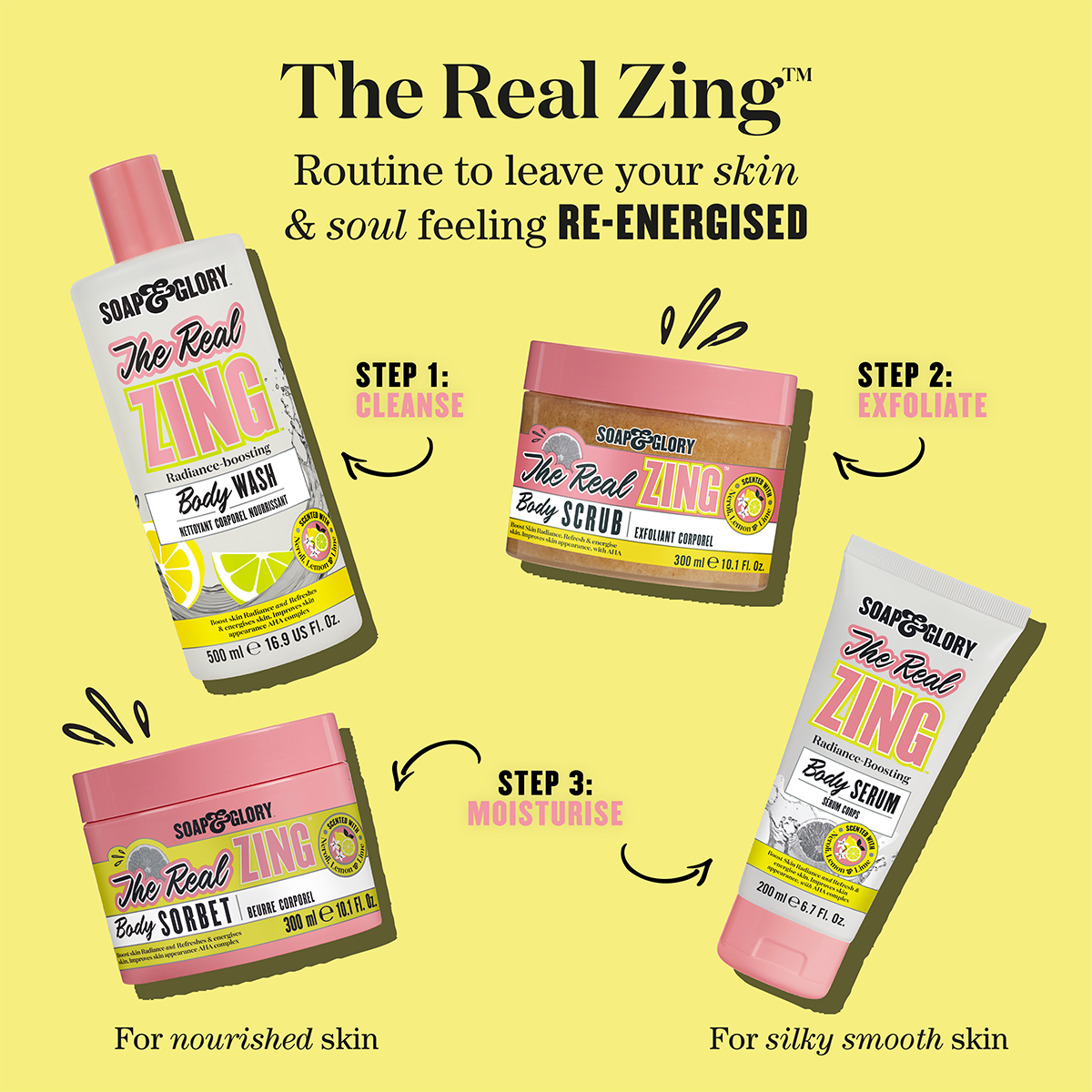 Using intensely zesty ingredients, The Real Zing Body Wash cleanses and refreshes your body whilst boosting the skin's natural radiance, leaving skin feeling and appearing refreshed, re-energised, and rebalanced. Combine this with your temperature-alternating shower, and you're sure to be energised for the day.
How to cleanse: Dispense a good handful of the body wash onto damp skin or onto an exfoliator and rub into a thick lather. Coat your body in the product for a luxurious cleanse. Once it's soaked in and the skin is feeling fresh, rinse thoroughly. 
Packed with naturally smoothening fruits and serious skin scrubbers like smashed sugar and sea salt, the road to silky skin has never been so smooth. Use The Real Zing Body Scrub to work away those stubborn dead skin cells and dry areas, leaving your skin looking and feeling supple, radiant, and energised. 
How to scrub: Take the rough to the smooth by applying The Real Zing Body Scrub to damp skin to energise and refresh. Scrub the skin in a circular motion then rinse away with warm water. Avoid the eye area.
Enriched with zesty lemon and lime, The Real Zing Body Serum achieves beautifully bright and silky-smooth skin with one application. Once you're out of the shower and you've towel-dried your skin, this serum can be used all over the body, and locks moisture into your skin to stay refreshed all day long. 
How to lock in moisture: Apply to completely dry skin for a full body hydration hit and moisture that stays all day long.
Keep skin looking and feeling refreshed and re-energised with The Real Zing Body Sorbet. Packed with nourishing ingredients and a zesty fragrance, you'll be wide awake and ready for the day with seriously smooth skin. 
How to exfoliate: Apply to dry skin post-shower for full body moisture and hydration. 
Last, but by no means least, we have The Real Zing Moisturising Hand Softening Balm. Enriched with moisturising miracle-workers, dry skin doesn't stand a chance. And because everyone loves a great-smelling hand cream to keep on their desk, we've infused this cream with Mediterranean-inspired zesty goodness. 
How to care for hands: Dispense a generous amount onto your palms and rub around your hands (covering all surfaces) until absorbed. Re-use as required. 
What are you waiting for? Wake up and smell the citrus! Discover the range and choose the best products to boost your energising morning body care routine. 
*https://www.npr.org/sections/health-shots/2021/05/06/992401123/if-your-brain-feels-foggy-and-youre-tired-all-the-time-youre-not-alone?t=1647008565441 
*https://nyctherapy.com/therapists-nyc-blog/the-mental-health-benefits-of-having-a-daily-routine/
*https://www.sclhealth.org/blog/2019/04/how-listening-to-certain-songs-can-impact-our-brain-and-affect-our-mood/