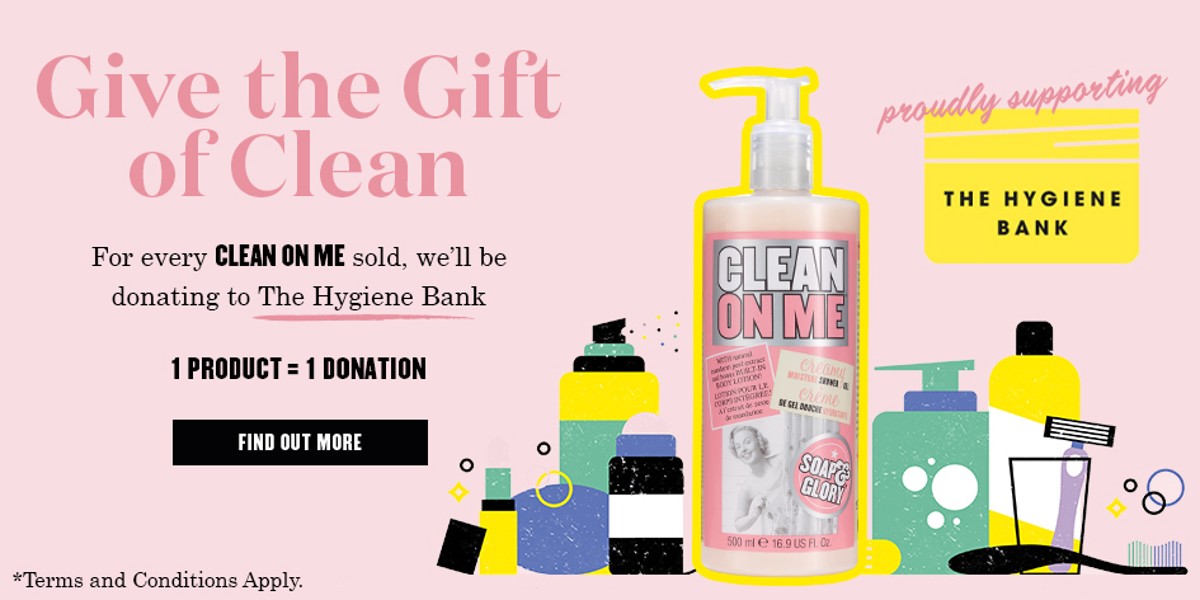 The Hygiene Bank Partnership
Thank You For Your Support
Soap & Glory have partnered with The Hygiene Bank in 2020 to help tackle hygiene poverty. From 1st March- 2nd June 2020, Soap & Glory donated a Clean On Me Creamy Clarifying Shower Gel (full-size of course!) to The Hygiene Bank, for every 50 of our products sold. This resulted in over 19754 donations!
Staring The New Year 2021 Off The Right Way
From January 13th – 9th March 2021, we will be giving the gift of clean and donating to The Hygiene Bank once again. For every Soap & Glory Clean On Me Shower Gel sold, we'll be donating to The Hygiene Bank. All you need to do is purchase a Clean On Me Shower Gel and we will do the rest. Look out for more exciting developments in our partnership.
Who Are The Hygiene Bank?
The Hygiene Bank is a grassroots, people powered charity, grounded in community. Their network of banks exist to ensure those living in poverty and can't afford to be clean, have access to the basics. This is about dignity, self-confidence and mental wellbeing. Feeling clean should not be a luxury or a privilege in the modern world and so they work to inspire social change.
What Is Hygiene Poverty?
It is not uncommon that those experiencing poverty or who find themselves in times of hardship having to make the difficult decision to eat or stay clean because they do not have the funds for both. This can result in social isolation due to the shame, humiliation and exclusion that surrounds hygiene poverty.
Product Donations
The Hygiene Bank have a network of over 350 (and counting) volunteers across the UK who collect toiletries and re distribute them to local charities. They collect new, unused and in-date toiletries, hygiene basics, beauty and personal care essentials such as deodorant, shower gel, shampoo, make-up, nappies and laundry detergent. Donating products to The Hygiene Bank is a simple way to support those in need across the UK and Ireland. The grassroots charities they provide these products to tackle a wide range of issues, from poverty to domestic abuse and disability.
Visit The Hygiene Bank
Terms & Conditions: For every Soap & Glory Clean On Me Body Wash 500ml sold in Great Britain between 13th January 2021 to 9th March 2021, Soap and Glory will donate a product to The Hygiene Bank.
2020 donation: For every 50 Soap & Glory products sold in the UK between March 1st – June 2nd 2020, Soap and Glory will donate a full sized Clean on Me Creamy Clarifying Shower 500ml to The Hygiene Bank.
The Hygiene Bank is a registered charity in England and Wales number: 1181267 and Scotland: SC049895