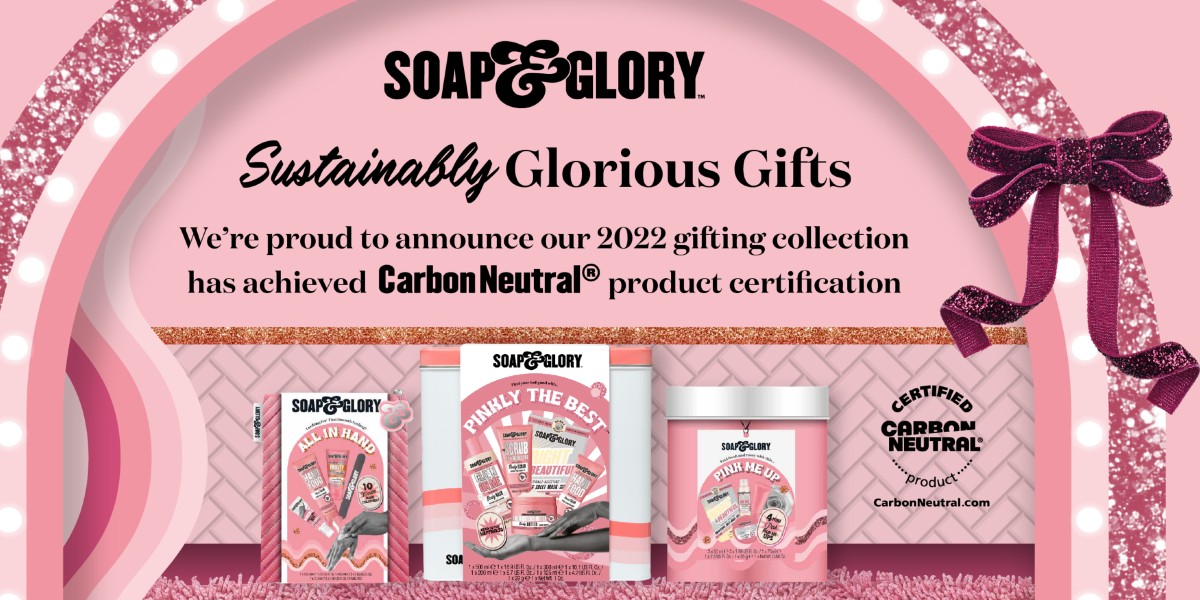 Our sustainability journey
We believe the world should be a truly glory-ous place for every body and every being - so back in 2019 we embarked on a sustainability journey. We pledged to reduce our impact on the planet and signed up to the UK Plastic Pact.
Since then, we've been on a quest – looking at our iconic products, packaging and gift sets to see where we can do better and where we can optimise our recyclability.
We are proud of what we have achieved so far and wanted to share our incredible journey - as well as our hopes and ambitions for the future.
What does CarbonNeutral® mean?
CarbonNeutral® certification is the leading global framework for carbon neutrality, used by businesses to reduce the greenhouse gas emissions of their operations, products and/or activities to zero. Soap & Glory has achieved CarbonNeutral® product certification for all items within the Christmas 2022 gifting collection.
Our CarbonNeutral® journey for Christmas 2022…
We've searched high and low through our pink-credible festive gift offerings, looking at all aspects of the range – and – cue fanfare - we are beyond delighted to announce that every product in our Christmas 2022 gift collection has achieved CarbonNeutral® product certification.
To achieve this, we've offset our unavoidable emissions by purchasing carbon credits from projects that reduce emissions and improve health and livelihoods. Specifically, the projects we have supported provide water filtration and improved cooking stoves to more than 230,000 people in Guatemala.
Water-borne disease has been identified as a national priority in Guatemala, given the high incidence of diarrhoeal disease and chronic malnutrition. This project distributes water filters and stoves that enable access to clean water and improve cooking conditions by increasing fuel efficiency and reducing harmful indoor air pollution. Improved stove design means less fuel is required for cooking and filters eliminate the need to boil water for drinking; both alleviating the pressure on national forests. It is the first Gold Standard water treatment and cookstove project in the country.
We are continually striving to improve Soap & Glory's environmental impact and are now focusing our efforts on reducing our total carbon footprint as a brand.
We know that giving feels great, but this year we feel it's time to give a little something back to the planet.  So join us as we continue our sustainability journey - with the goal of leaving the world that little bit more glory-ous for the next generation.