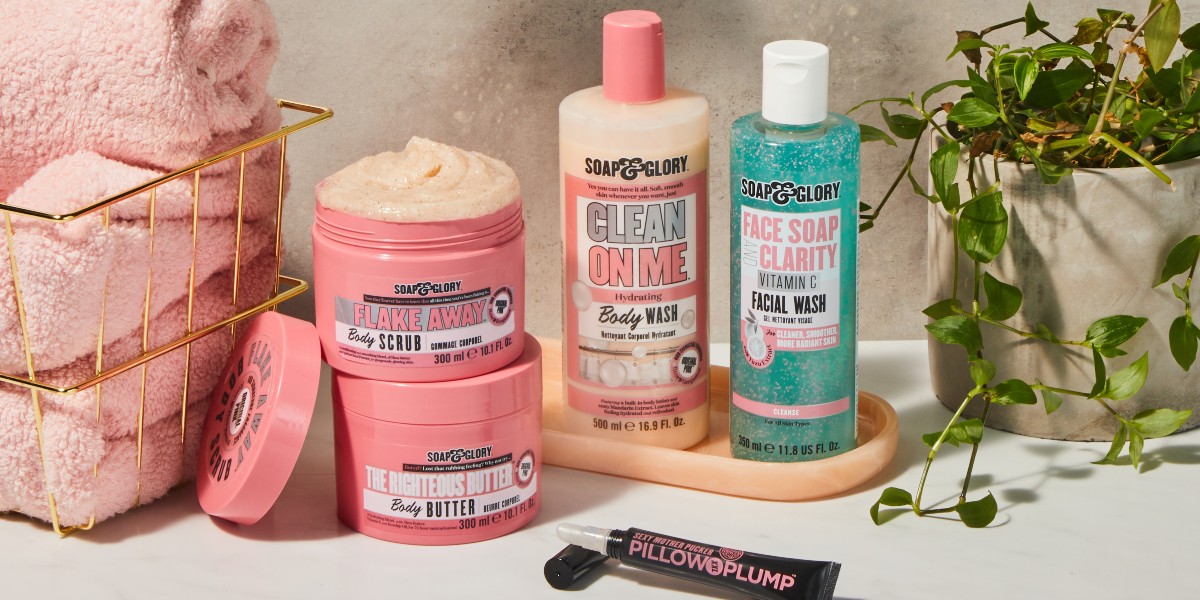 Our Most Wanted Cult Classics
Pop quiz – Can you name our top 5 hero products?
HINT: They include 3 brilliant body care, 1 super-enriched skincare and 1 makeup marvel and… you can cheat as needless to say, they are listed in this blog post.
So, what do we mean by 'cult classics' in the beauty world? Well; they are the fan favourites, award winners and the ones everyone wants to get their hands on. The 'soaper-heros' that come to your rescue.
If you haven't already, you simply must try them. We assure you they are worth the hype and you will want to add them to your beauty collection.

First up, we have our: FACE SOAP & CLARITY™ VITAMIN C FACIAL WASH.
This facial wash helps to unclog pores, energise and brighten skin with the help of the powerhouse ingredient Vitamin C!
Effortlessly and effectively wash away the day's makeup with peace of mind that Face Soap & Clarity will be gentle on your skin. Your skin will feel super-clean without feeling dry or dehydrated. Win, win…win!
AND, after just 1 week of use, your skin will feel smoother and appear more radiant. That's POST-YOGA RADIANT!
Your morning and evening skincare routine will become the self-care highlight of your day.
Don't just take our word for it:
"My skin is the best it's ever been" – Lovebug via Boots.com
"I've finally found my forever facial wash… My skin has never looked so bright and clear" – AmyK via Boots.com
How to use:
We would suggest a grape-sized blob but having just seen some giant grapes in the supermarket, we're thinking blueberries might be better? Whatever your fruit reference, slather onto damp skin, lather up and rinse the dull away.
Did you know?
Our beads aren't microplastics – instead we've used wax. It's gentle, biodegradable and kind to skin.
The formula is soap-free and non-drying, so you can use it every day and it won't strip natural oils.
Skin radiance lasts longer with moisturiser. It's a fact. Try our FAB PORE™ Moisturiser for lasting loveliness.
You may just have found your Holy Grail face wash.

Belonging to our Original Pink scented range, the smell alone is blissful. With nourishing built-in body lotion, this creamy shower gel will leave your skin feeling supremely clean and super soft. That's PUPPY DOG SOFT!
High in vitamin C and antioxidants thanks to the Mandarin peel extract, it helps leave your skin feeling smooth and refreshed.
It's also unbelievably creamy and rich – even we find it hard to believe!
Don't just take our word for it:
"Gives you that squeaky clean feeling!" – Rumz90 via Boots.com
"Lasts ages and is very moisturising" – EJane86 via Boots.com
How to use:
Take 100th of the bottle (a little goes a long way), rub into damp skin and rinse off the creamy lather thoroughly – you've got this.
Exfoliation prepares skin for moisture but sometimes you have to feel it to believe it. Try our FLAKE AWAY™ Body Polish first for the ultimate smooth.
Instantly upgrade your shower time.

Someone did a great job in the naming department didn't they?! As always.
Expertly formulated to create fuller-looking lips, this lip gloss is a must-have for your makeup bag. Your lips will look more defined and those fine lines will plump, giving you that picture-worthy pout!
Lips will feel smooth and soft whilst looking amazingly glossy.
Available in 5 shades of goodness including Clearvoyant (clear), Cherry Up (red with a dash of pink), Nude in Town (nude), Coy Toy (brighter pink) and Pink Well (baby pink)! We made that easy for you, didn't we?
Don't just take our word for it:
"You can really feel it work!" – Michaela222 via Boot.com
"Gives a cute glossy effect!" – Nicole99 via Boots.com
How to use:
Use alone or on top of your luscious lip colour. Sit back and wait for that tantalising lip tingle.
Did you know?
Sexy Mother Pucker is the No.1 Lipgloss brand in Boots?!
Our formula includes LIPSWELL™, a natural Plant Oil Infusion which created a tingle sensation and makes your lips feel instantly fuller.
Peptide plump complex ™ is used to leave lips perfectly plumped.

If you want silky smooth legs and SENSATIONALLY soft skin, look no further. Our Flake Away Body Polish will exfoliate your skin to reveal a brighter, more even skin tone after just one use.
It also helps prevent in-grown hairs and helps smooth out bumps on your skin too.
Scented with our classic ORIGINAL PINK scent, you simply couldn't wish for more.
Don't just take our word for it:
"This is the best scrub I have used!" – KatieLou via Boots.com
"Smell and texture is to die for" – BEX2462 via Boots.com
How to use:
Scrubbing dead skin off not only smoothes away lumps and bumps, it helps your moisturiser sink in fast as it doesn't get stuck on top of dry, dull, flaky skin.
Follow with THE RIGHTEOUS BUTTER™ Body Butter for super soft, superbly scented skin!
Did you know?
All 3 of these ingredients are packed into our body scrub.
Grapeseed and sweet almond oil nourishes and conditions skin
Shea butter leaves skin moisturised and nourished
Peach seed powder gently polishes and smoothes to leave skin feeling soft and supple.
Polished to perfection.

Last but definitely not least, Winner of Best Body Product at the Fabulous Beauty Awards 2020.
Providing long-lasting moisture that leaves skin feeling velvety soft and smooth, The Righteous Butter is Scientifically proven to HYDRATE skin for 72 hours.
A quick absorbing body moisturiser with a rich and creamy texture; beautifully fragranced with our ORIGINAL PINK scent, you will wonder where it's been all of your life.
Don't just take our word for it:
"I'm treating myself every time I put this on…it's so thick and luxurious" – BeautyJunkie20 via Boots.com
Did you know?
The following ingredients are included in our luxurious body butter.
Shea butter to help deeply moisturise dry skin.
Aloe Vera to help soothe and hydrate.
Rosehip seed oil – rich in omega 3 and essential fatty acids, known to hydrate and even skin tone.
Vitamin E, a renowned antioxidant, helps condition your skin.
How to use:
We're not ones to tell anyone what to do, but it really is better to butter after a good dose of FLAKE AWAY™ Body Scrub and CLEAN ON ME™ Shower Gel.
Massage a velvety handful of THE RIGHTEOUS BUTTER™ Body Butter into damp skin until it's all sunk in.
Just in case you missed it, all three of our Bath & Body cult classics can be used together to create a full regime: Clean & Scrub & Cream. That's CLEAN ON ME™ SHOWER GEL, FLAKE AWAY™ BODY POLISH and THE RIGHTEOUS BUTTER ™ BODY BUTTER.
All three hero products are fragranced with Original Pink™ our Signature Fragrance so you don't even have to mix scents. SCENT-SATIONAL.
So go on, Treat yourself to extraordinary beauty.