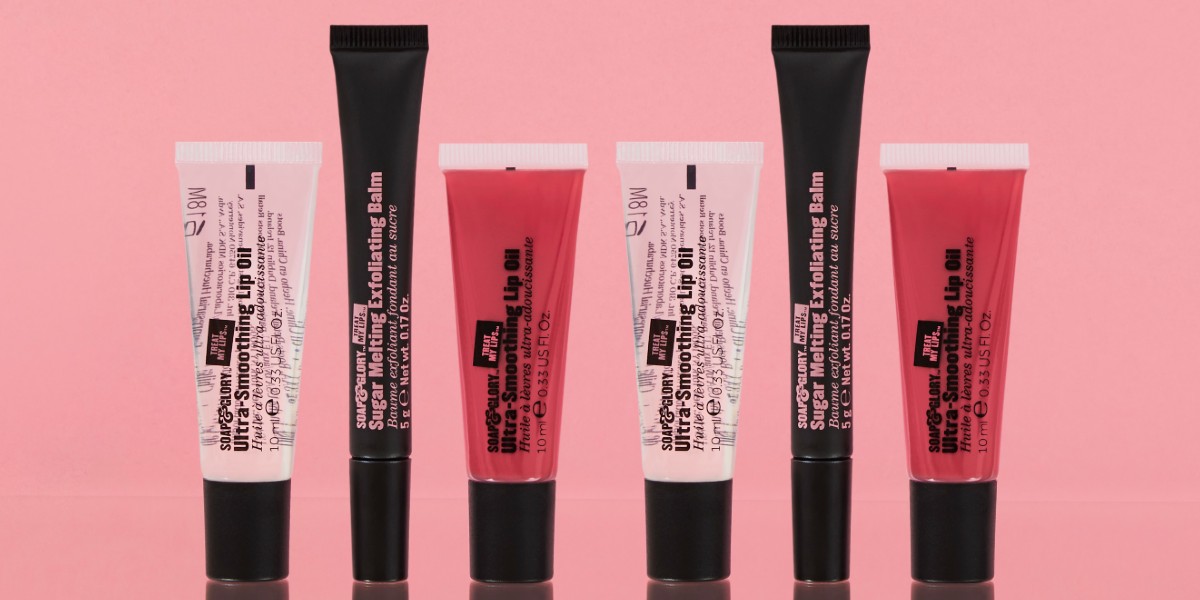 Treat My Lips Ultra Smoothing Lip Oil And Sugar Melting Lip Balm & Scrub
Our Lips Are No Longer Sealed!
We are delighted to share our new 'Treat My Lips™' range with you.
While most of us will have a daily skincare routine, we're often guilty of forgetting about our lips and their unique needs. But here at Soap & Glory, we know the importance of great lip care (after all, who doesn't want a plumped and perfect pout?) which is why we've launched two new lip savers: an exfoliating balm and scrub, and an ultra-smoothing lip oil.
So, if you lust after luscious lips, then you're in for a treat. Smoother, nourished lips? Let us tell you what you need to know…
TREAT MY LIPS™ SUGAR MELTING LIP BALM & SCRUB:
First up is our new Sugar Melting Lip Balm & Scrub.
Exfoliating your lips is a vital step in prepping your lips for the day. Whether you prefer your lips au naturel; or with a quick coat of lipstick or lip gloss, using a lip scrub will reveal a perfect base.
Our new lip balm & scrub gently exfoliates your lips and removes rough skin. The scrub melts into a balmy texture to reveal soft lips that feel refreshed and revitalised.
SAY GOODBYE TO DRY LIPS.

How to use our lip balm & scrub:
It's simple really. You just swipe onto your lips and gently massage in. Press your lips together until the sugar crystals completely dissolve.
Follow with your favourite lip oil or Sexy Mother Pucker lip gloss – whatever takes your fancy.
It's what's on the inside that counts:
Our lip balm & scrub contains a blend of nourishing ingredients to really boost the condition of your lips:
Vitamin E
Skin-conditioning agent and antioxidant with high biological efficacy in terms of cell protection, anti-aging, moisturising and anti-wrinkle.
Shea butter
A natural source of phytosterols and tocopherols that softens, moisturises and protects skin from harsh elements.
Fine sugar crystals
Gently exfoliates with fine sugar crystals that dissolve and leaves behind a smooth balm on lips.

TREAT MY LIPS ULTRA SMOOTHING LIP OIL:
Treat My Lips Ultra Smoothing Lip Oil:
Next, let us acquaint you with our new Ultra Smoothing Lip Oils.
Available in clear and Sheer Pink; these oils will change your lip game. They're hydrating, lightweight and enriched with a blend of natural oils and extracts with moisturising, soothing, protective and calming properties.
Even better is that with continued use, they improve the texture and moisture content of your lips as well as helping to reduce fine dryness lines on your lips.
SUPER SOFT, HYDRATED LIPS HERE WE COME.
How to use our lip oil:
Apply on its own or over and under any of our lipsticks for that extra hydration.
For a super hydrating treatment, apply your lip oil before you go to bed and, when you wake up, your lips will feel smoother and more nourished than ever before.
AN OVERNIGHT SUCCESS.
It's what's on the inside that counts:
Rosehip Oil
Possesses regenerative, anti-scar, anti-wrinkle, anti-ageing, rejuvenating, smoothing and moisturising properties.
Orchid Flower Extract
Its antioxidant and anti-inflammatory capabilities help slow the process of aging on the skin; increase the tone while moisturising and soothing skin.
OUR TREAT MY LIPS™ RANGE ARE ALL £8 EACH.
We hope you love them as much as we do.
So go on… Treat. Your. Lips. …