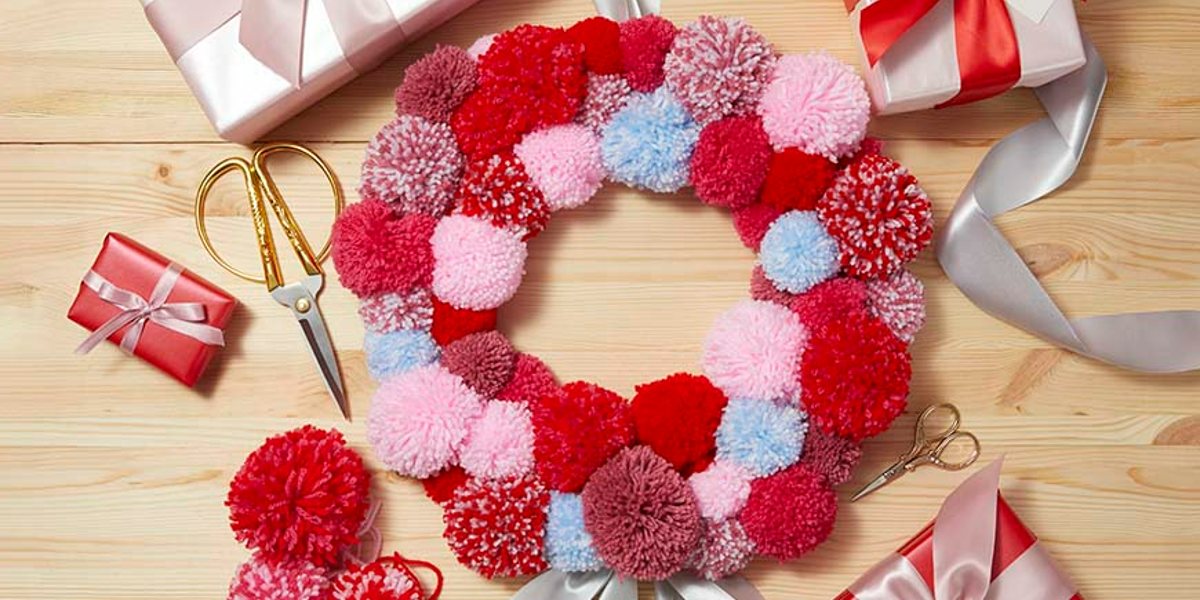 Take a Wreath Out Of Our Book
FA LA LA LA LA, LA LA LA LA…
The countless hours spent scrolling through Pinterest boards in search of inspiration for homemade Christmas decorations, Christmas crafts for kids and adults and Christmas wreath ideas – yes, it's that time of the year again, it's time to get up close and personal with your craft cabinet. It's time to make a handmade pom-pom Christmas wreath *squeals with delight*.
Who doesn't love a good pom-pom? We know you're going to love our fabulously fluffy festive wreath. So, let's not yarn on (get it?), and let's get hands on with poms.
WHAT YOU'LL NEED:
A metal wire wreath hoop (we've used a 30cm/12" one)
A selection of pom-poms in different colours and sizes (we've used approximately 32, because the more the merrier we say!) Now, if you really want to show off then of course, feel free to make your own pom-poms. You can use a pom-pom maker for this (which definitely speeds up the process) but it's just as easy to use some scrap cardboard. But, if you'd prefer to purchase your pom-poms then who are we to judge
Wool for fastening (or, for making your own pom-poms)
A pair of scissors
Satin ribbon for hanging
HOW TO MAKE YOUR WREATH:
Either buy or make your own pom-poms, we'll leave the decision up to you.
Place the wire hoop on a table and grab your first pom-pom. Place the pom underneath the hoop and firmly attach it using some wool tied in a tight knot. Trim off any unwanted woollen ends and perfectly position your pom-pom.
Keep working in this way, attaching your poms to the hoop until it's jam-packed full of pom-pom goodness.
Ta da! It's as simple as that, your cuddly custom wreath is complete. To hang the wreath, tie ribbon to top of the hoop and pop a big old bow on the bottom. Check how the wreath hangs and balances, make any adjustments, then secure it to your door with a knot or bow and make all the neighbours jealous.