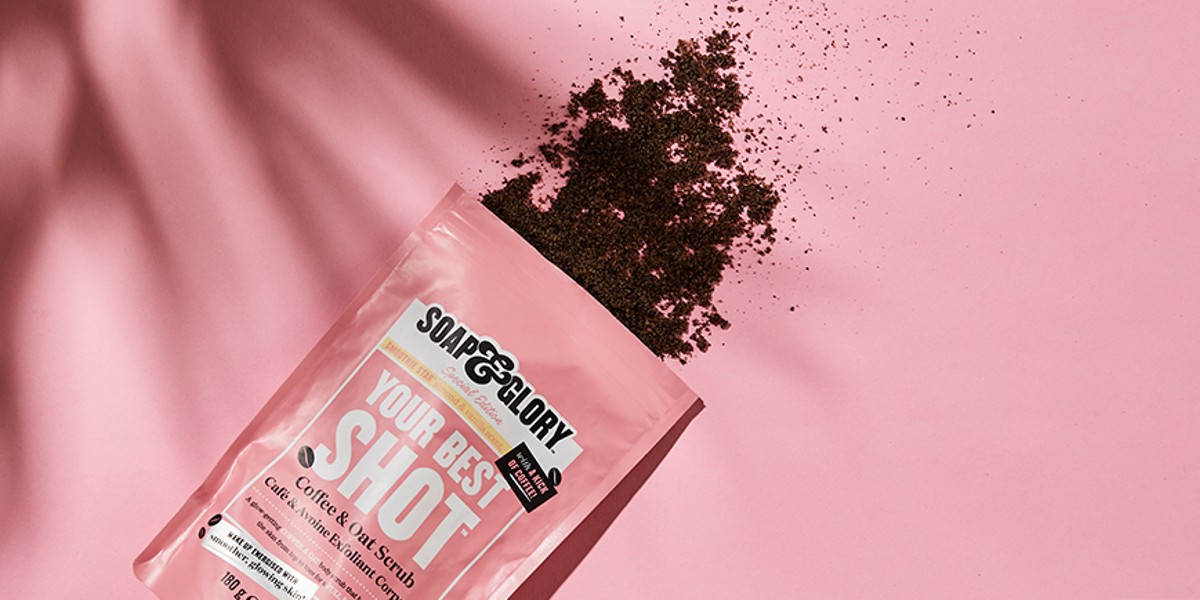 Bump & Grind: Your Guide To Body Exfoliation
The arrival of autumn brings a welcome world of chilly weather changes. For one thing, it's totally legit to swap your morning skinny latte for frothy hot chocolate (with cream, thanks). And overnight, the park becomes a place for golden-lit, sophisticated strolls, rather than the wasp dodge of August.
However, just because you have relegated your denim cut-offs to the back of the wardrobe, and have already 100% committed to the black-30-denier and that Zara dress combo until spring, it doesn't mean that you can close down the skincare beauty shop completely.
In fact, the cooler months mean that your skin needs more attention. That's because when the temperature drops, so does the humidity. Team that with ramped-up central heating, and your skin is left flakier than a puff-pastry showstopper in the Bake Off tent. And no one wants itchy, scratchy skin – or a flurry of skin snow drifting out of your opaques at the end of the day.
The good news is keeping your skin smooth and silky over winter is not complicated. Just think: exfoliate and hydrate. Exfoliation gets rid of the dead skin cells so your moisturiser can get to work on the new, emerging cells that can actually benefit from the moisturiser.
The tip is to do it little and frequently. A few times a week for a quick once-over is plenty.
Then, when you know that you need a bit of oh-la-la oomph (hello, Christmas party season*), you can indulge in a skincare super session, and really get to grips with gnarly areas like ankles, heels, elbows, and get extra glowing, glorious skin. Here's how.
*Lockdown permitting. We live in hope…
Exfoliate: If you are the organised type who likes to stay on top of your skincare game, then bring Your Best Shot Coffee & Oat Body Scrub into your morning shower one to two times a week. Thirsty skin will be grateful for the gorgeously gritty coffee grinds, which slough off dead cells and kickstart your circulation to get your blood pumping for the day. Don't worry about being tough on the rough bits, as natural oats gently nourish and soothe as you groove.


Hydrate: After your shower, don't dry off too enthusiastically. While your skin is still damp, slather on the lightly whipped Smoothie Star Buttercream (the risk of slightly soggy footprints on the carpet is worth it for silky smooth skin). Containing an insanely indulgent five hydrating and nourishing oils, this daily deluxe body butter absorbs in an instant so you can get dressed and on with your day.
Super Slough-Away Session
Exfoliate: You've got somewhere glam to go, or perhaps you've just managed to find a decent amount of me-time. Whichever (and we're not sure which is more of a treat these days!), it's time to get serious. This calls for an indulgent, filled-to-the brim, steamy bath. Soak for a good 10 minutes. Now, reach out your sud-soaked hand for The Scrub Of Your Life Body Scrub.

You get twice the action with this heavenly hard worker as it contains quillara saponaria extract, a natural soapy foamer and anti-inflammatory. Combined with tangerine peel and the S&G signatural Original Pink scent (with all the delicately seductive tones of rose, bergamot, green leaves and mandarin), and your in-growing hairs, scaly patches, lumps and bumps (even the chicken-skin ones on the back of your arms), will all be buffed into oblivion.


Hydrate: For a scrub so stupendous, you'll need to follow with a moisturiser that won't be left in the shade. Enter the multi award-winning The Righteous Butter Body Butter, with it's gutsy goddess-worthy combination of shea butter, rosehip seed oil, aloe vera and Vitamin E. Pay extra attention to all those hard-to-reach places you pummelled before, then sit back, and let all that hydration sink in. (It's so hyper absorbent, it won't take long.)
If it's a night in you have planned, take your tootsies to task with The Heel Deal Foot File. The three file heads will revive and renovate rough areas from the heels to the sensitive arches and dry cuticles around the toes. Finish with a pro-pedicure-worthy smother of Heel Genius Hydrating Foot Cream. Cover with cotton socks and leave overnight.