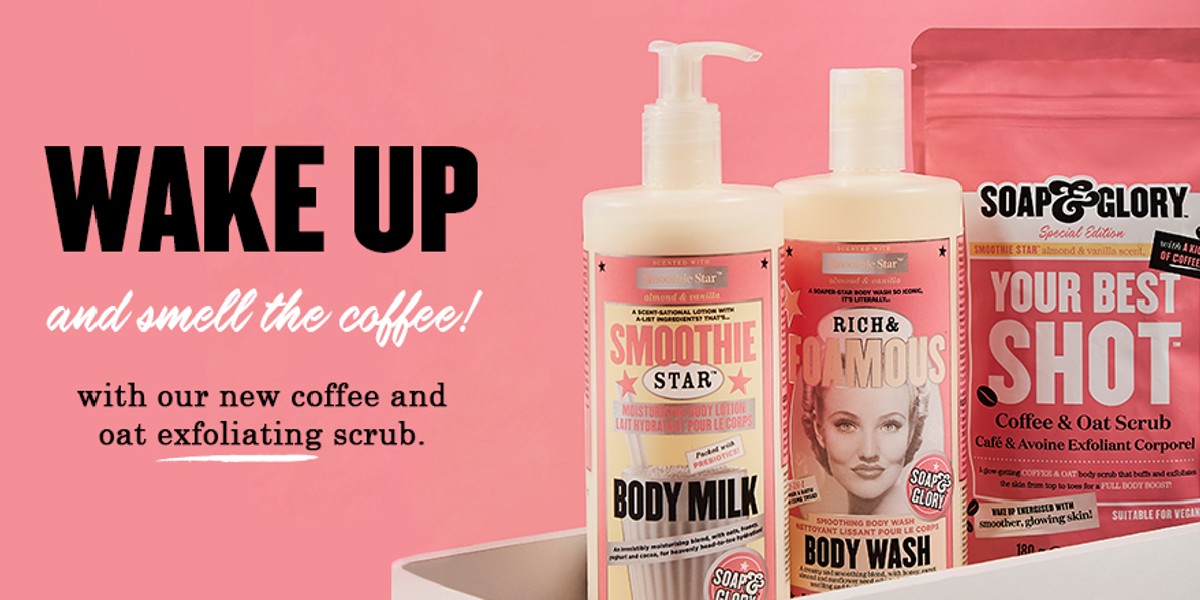 Smoothie Star Coffee & Oat Scrub. Your Guide To Smooth Skin.
WAKE UP AND SMELL THE COFFEE!
Our brand new 'SMOOTHIE STAR™ Your Best Shot Coffee & Oat Scrub' to be precise!
TELL YOU MORE? … GLADLY.
Our new coffee & oat scrub is a special edition exfoliating body scrub that buffs skin from head to toe for a full body boost, leaving your skin feeling super smooth and smelling scent-sational.
Add our coffee scrub to your shower routine to re-awaken tired looking skin.
Your skin will thank you for giving it a little more attention, trust us.
HOW DO YOU USE IT? …IT'S SIMPLE.
Simply apply to wet skin in the shower and buff until you've smoothed things over, then rinse off, leaving your skin feeling like it's glowing. You can use as much or as little as you want to.
We've reduced the amount of plastic we use in our packaging and the re-sealable bag is handy for keeping the coffee scrub fresh in-between uses.
Allow yourself some real 'me-time' and upgrade your shower regime.
By following these 3 simple steps, your skin will feel the maximum benefits.
Afterall, the best things come in 3s right?
Step 1. Start by using our Whipped Clean Shower Butter.
Washing the dirt away is the place to start. Rub a handful onto damp skin and massage in. Once you're done enjoying the rich, creamy and luscious lather, just rinse off to reveal beautifully moisturised skin.


Step 2. Secondly, here is where you use our SMOOTHIE STAR™ Your Best Shot Coffee & Oat Scrub.
The satisfyingly gritty texture ensures nothing is missed and skin is easily and quickly smoothed. Scented with our mouth-watering Smoothie Star scent, what's not to love?


Step 3. Finally, once you're showered and dry, apply our SMOOTHIE STAR™ Body Milk to dry skin. Loaded with coconut oil and Shea Butter, it's super hydrating and conditioning for your skin.
You do scrub up well 😉


WHAT'S IN IT? … WELL; COFFEE.
Coffee arabica (coffee) seed oil which is known to energise and awaken your skin.
Coffee granules and oats to exfoliate tired looking skin, leaving it fresh, smooth and glowing.
Also, as many of you will be happy to hear, it's suitable for Vegans! woohoo.
You can find a full ingredient list on the SMOOTHIE STAR™ Your Best Shot Coffee & Oat Scrub product page.
WHEN CAN YOU BUY IT? … YOU'RE IN LUCK.
It is available today! So go ahead and treat yourself, you deserve it.
Click here to view our 'SMOOTHIE STAR™ Your Best Shot Coffee & Oat Scrub'
Soft, great smelling skin? Count us in!
Comment below and let us know if you're as excited as us?
Remember – as much the name and smell is tempting; this is NOT a food so please DO NOT eat it.