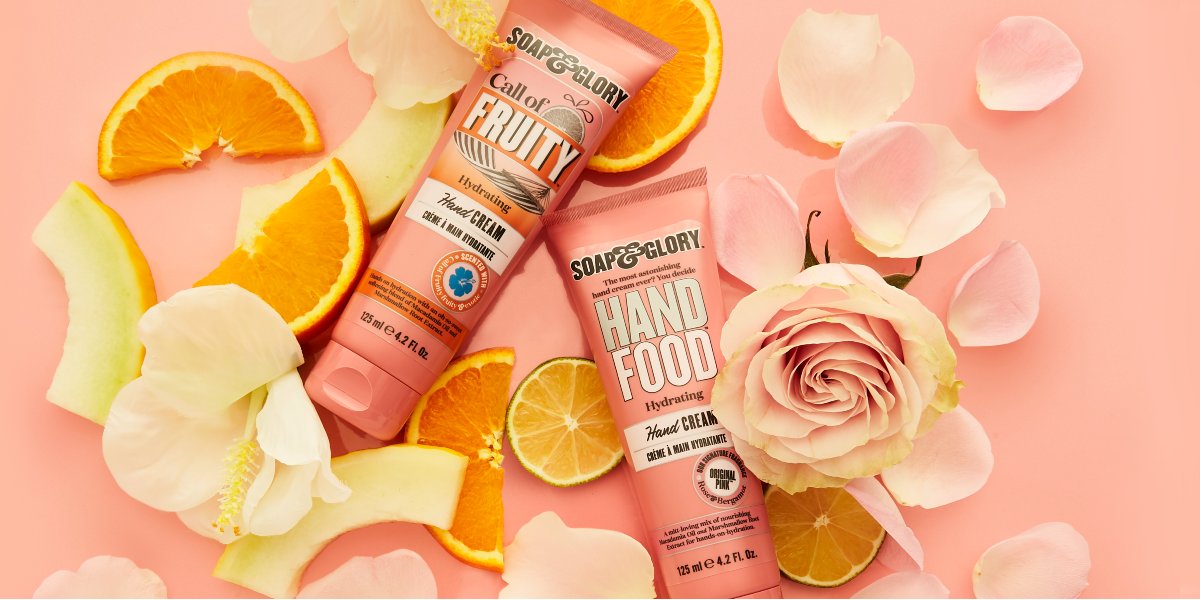 Our Fragrance Families Explained
Soap & Glory fans know that our products come in an oh-so-sensual suite of seven house fragrances which have been specially crafted to indulge your senses. However, as simply scent-sational as they are, we also know that fragrance can sometimes be hard to get your head (or nose) around.
With top notes, bottom notes and everything-in-the-middle notes, understanding something as effortless as smelling good can feel a little strenuous. So, we've taken the hard work out of it, and put together this handy fragrance guide – all you have to do is decide on the one (or three) you want to stock up on!
WHAT ARE 'FRAGRANCE NOTES'?
Before we get started, a quick (smelly) lesson on 'notes'. Fragrances are described by three layers of 'notes'; a fancy word for the individual 'scents' that reach your nose at different times. Here's why they're important:
TOP NOTES:
These are the fragrances that hit you on the first spritz. They last between five and 15 minutes and will deliver your first impression of the fragrance.
HEART NOTES:
When the top notes have faded away, you'll be able to identify the heart notes. They make up most of the fragrance so it's worth giving them time to warm up before you make up your mind about a perfume. (This is why it's advised you try on a fragrance and wait 15 minutes before you can smell it's true scent.) The heart notes stay with you for between 20 to 60 minutes.
BASE NOTES:
And finally, base notes are the big hitter, the foundation of a fragrance. Rich, heavy and long-lasting, they can stay on your skin for up to six hours.
OK, so now you know why we obsess so deeply about our fragrance layers, here's a guide to our signature scents.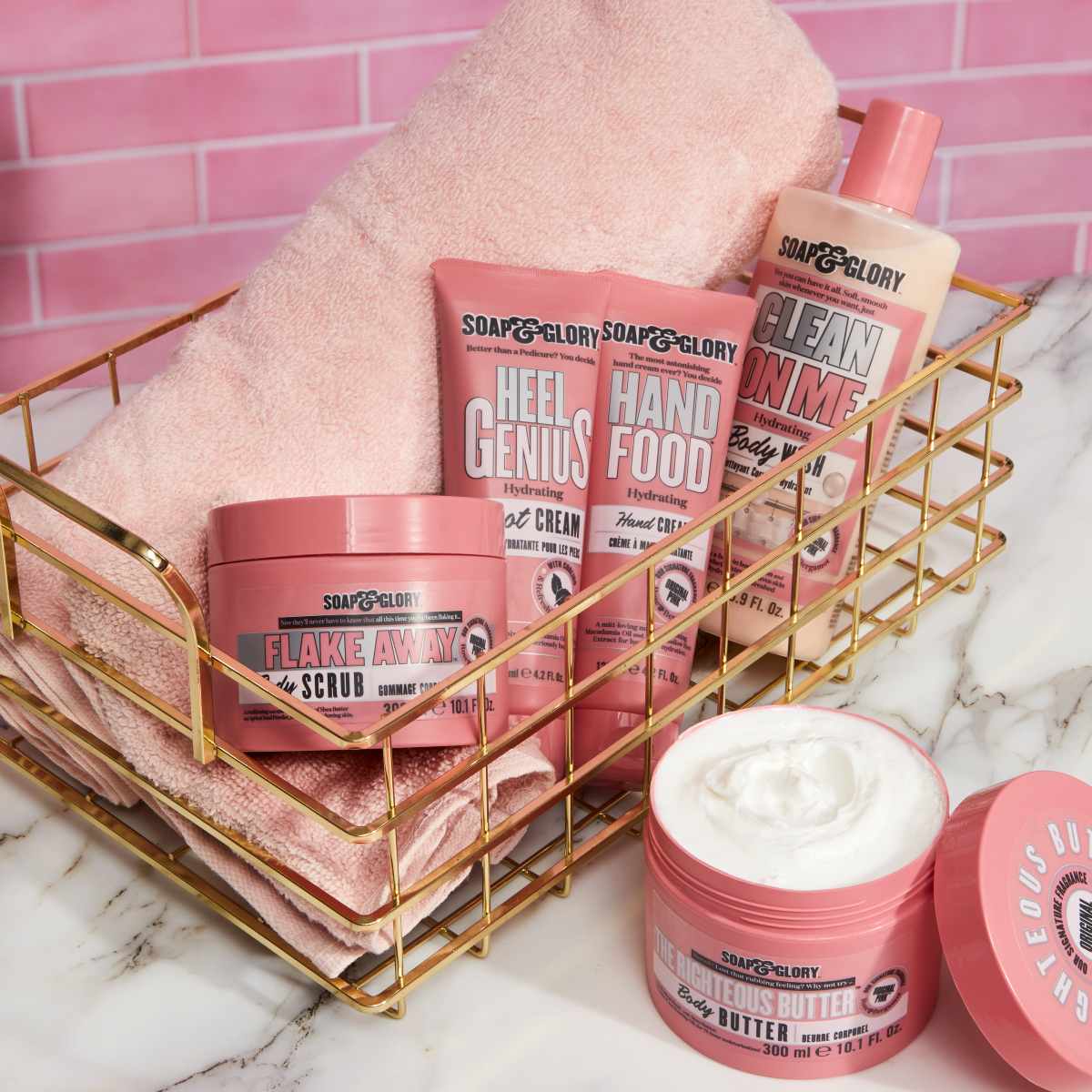 Feel utterly indulged and fabulously feminine.
Our signature fruity 'chypre' fragrance Original Pink™ has been a firm favourite since we launched. The perfectly poised blend of refreshing bergamot, crushed green leaves and mandarin offer up a zesty wake-up call with rose, jasmine and violet. Feel sensual with the base notes of utterly indulgent patchouli, oakmoss and musk.
Top: Fresh leafy, greens of Bergamot & Mandarin
Heart: Floral Rose, Muguet*, Jasmine, Violet
Base: Woody Oakmoss and musky Patchouli & Amber
(*The green, fresh floral scent of Lily of the Valley)

Original Pink™ favourite: The Righteous Butter™ Body Butter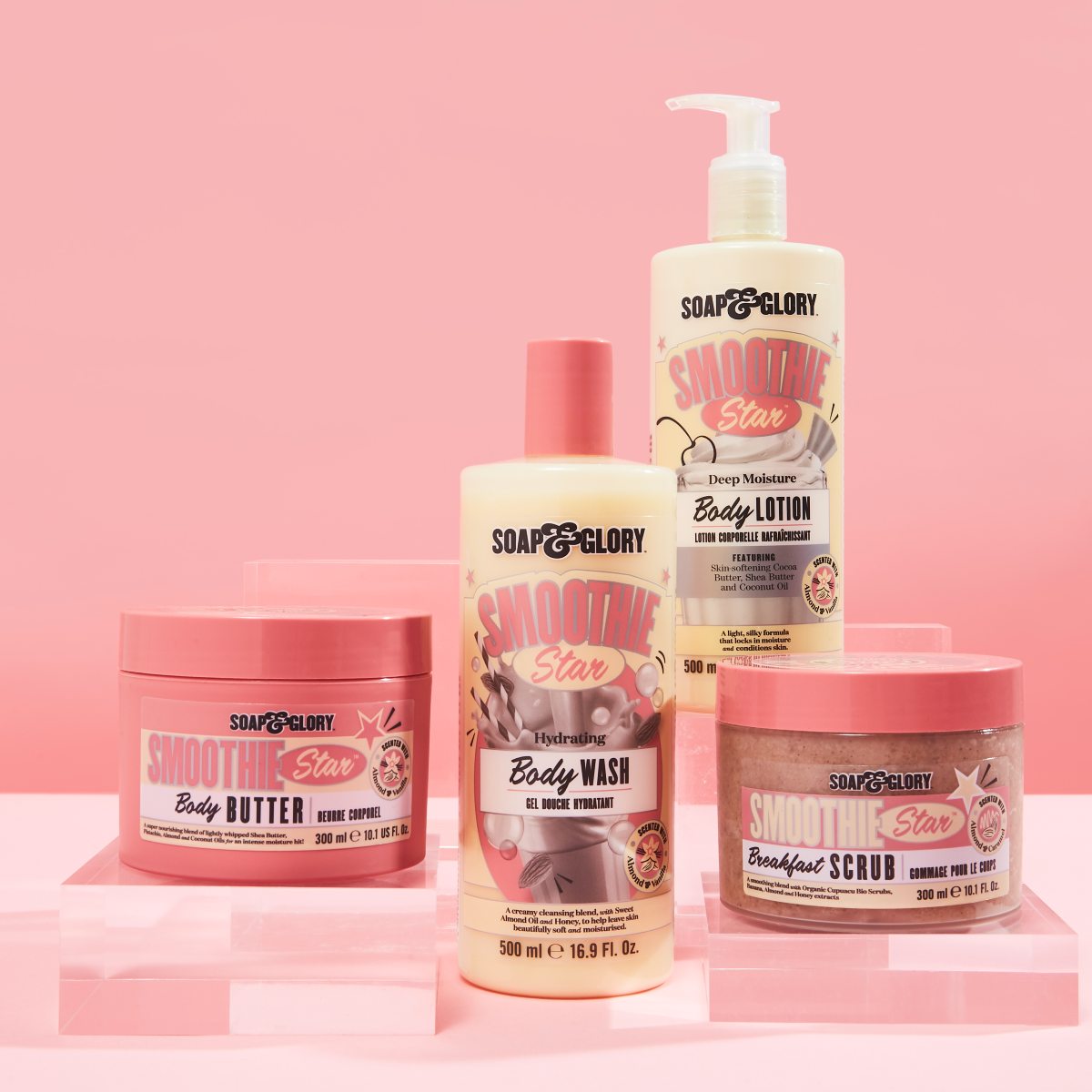 Warm and cosy for a tantalising self-treat.
If you like the sweet things in life then almond, vanilla and sweet gourmand are your olfactory recipe for success. Our fabulously foodie, mouth-wateringly moreish Smoothie Star™ scent is split into three options, each one has a deliciously divine almond and vanilla base for your a la carte menu.
Smoothie Star™ Breakfast Scrub™
Top: Strawberry, Frangipane & Pistachio
Heart: Caramel, Vanilla, Brown Sugar & Praline
Base: Creamy, Sandalwood, Milky & Amber
Smoothie Star™ Buttercream
Top: Fresh Citrus, Hazelnut & Almond
Heart: Jasmine, Helitrope & Patchouli
Base: Sandalwood, Vanilla & Caramel
Smoothie Star™ Body Wash & Body Lotion
Top: Orange, Almond & Pistachio
Heart: Rose, Jasmine & Helitrope Sandalwood,
Base: Golden Amber, Rich Vanilla & Sweet Musk
Smoothie Star™ favourite: Smoothie Star™ Breakfast Scrub™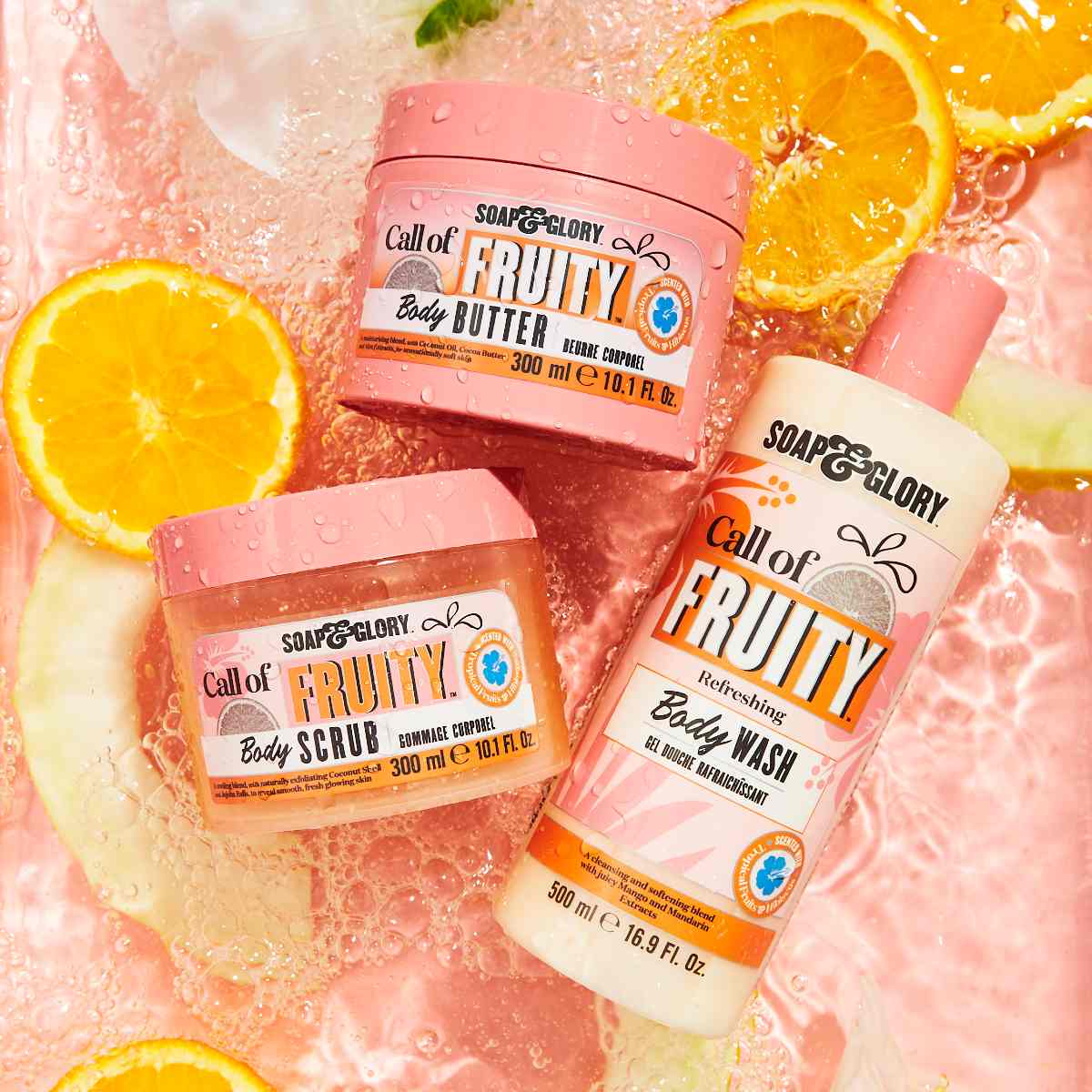 Be transported to tropical climes for a dreamy exotic sensation.
Did you know that scents can trigger a memory twice as quickly as other senses? Even on the dreariest days you can reminisce on memory bliss with this lightweight blend of refreshingly juicy melon and exotically floral gardenia. Dreaming of beach holidays? Your bathroom is your new jet-set getaway.
Top: Bergamot, Orange & Violet Leaf
Heart: Hibiscus, Gardenia, Melon & Cherry
Base: Musk, Creamy & Cedarwood
Call Of Fruity™ favourite: Bubble In Paradise™ Shower Gel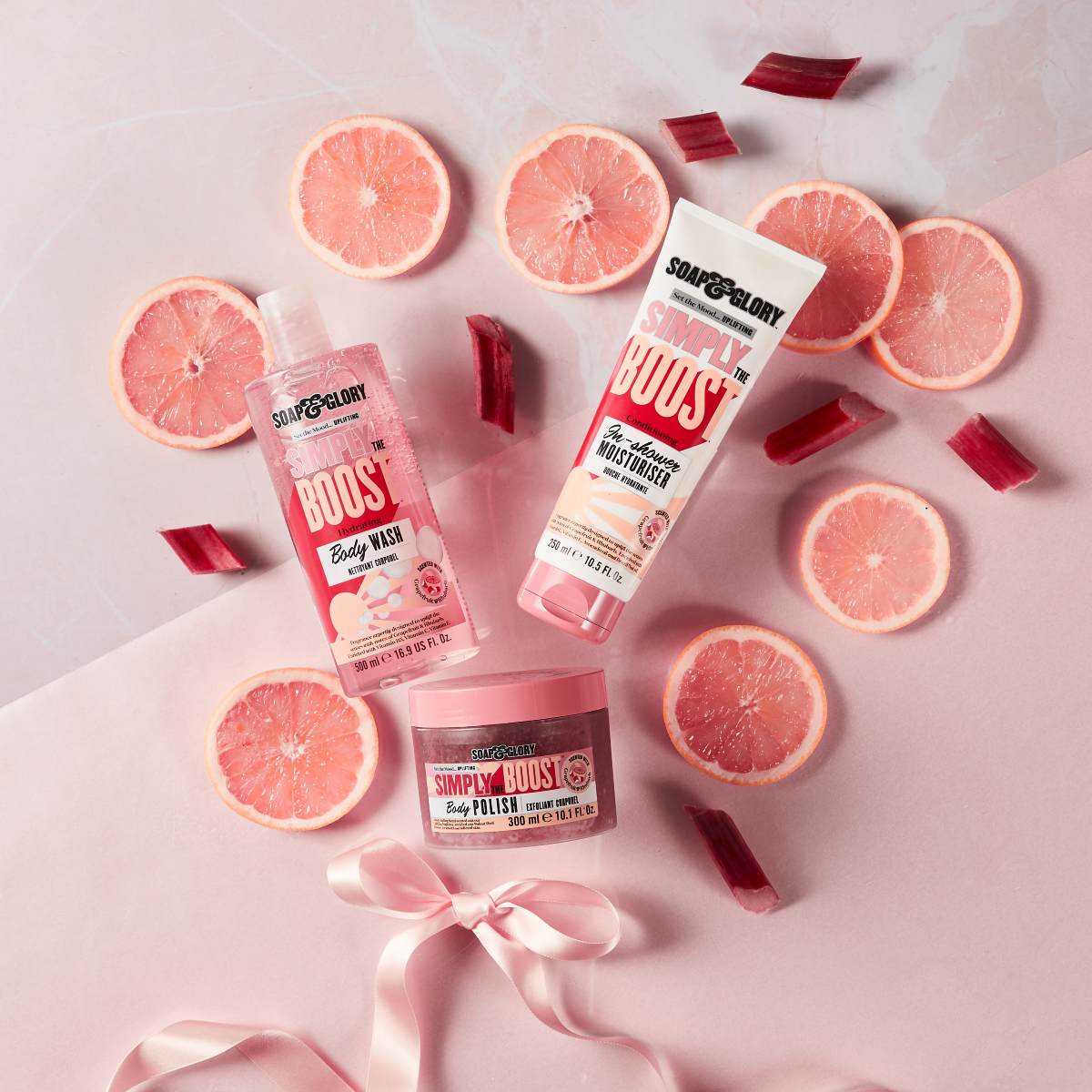 What used to be called 'Uplifting™', but we had a change of name. 
Discover a fragrance that has been expertly designed to enhance happiness, with notes of grapefruit and rhubarb. Monday mornings will never be the same again!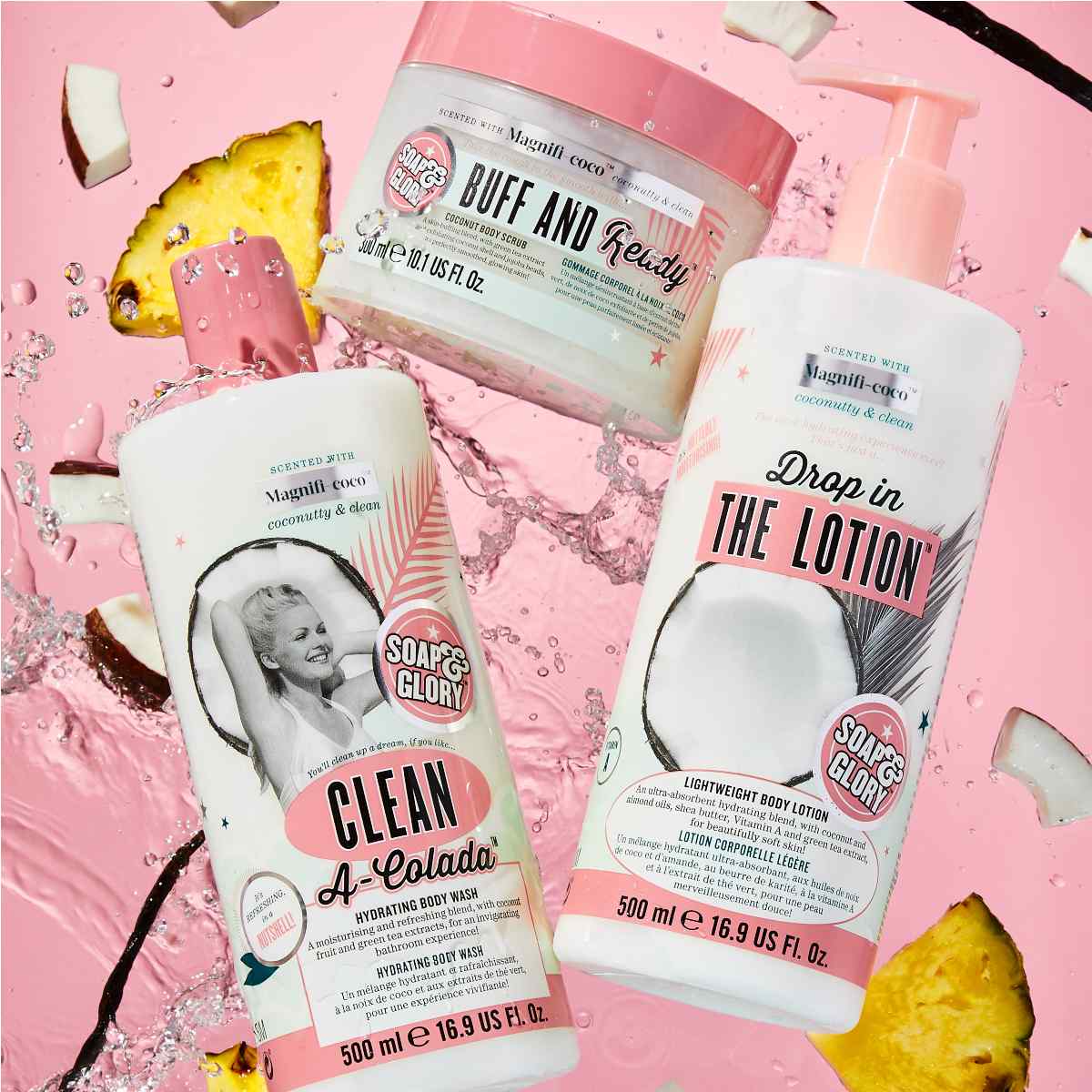 Like you intend to spend the day in a hammock. Coastal calm guaranteed.
There's nothing quite like relaxing in a hammock, sand between your toes, sipping from a freshly-cut coconut cocktail. Get beachy with your bath-time with a laid-back yet indulging blend of fresh, energising apple and rich, creamy coconut. Our Magnifi-coco™ scent features a refreshing marine breeze, gently leading into a delicious heart of creamy coconut and crunchy green apples, delicately melting into warm musks and salted vanilla. Pass me another.
Magnifi-Coco™ Body Scrub + Body Wash
Top: Apple Tea, Coconut Water, Passion Fruit & Pineapple
Heart: Coconut Milk, Heliotrope & Water 
Base: Salted Vanilla, Sea Fennel & Musk
Magnifi-Coco™ Body Lotion & Body Butter
Top: Sea Salt, Apple & Strawberry Coconut,
Heart: Cyclamen & Orchid Flower Vetiver,
Base: Cedarwood, Creamy, Amber & Musk
Magnifi-coco™ favourite: A Drop In The Lotion™ Body Lotion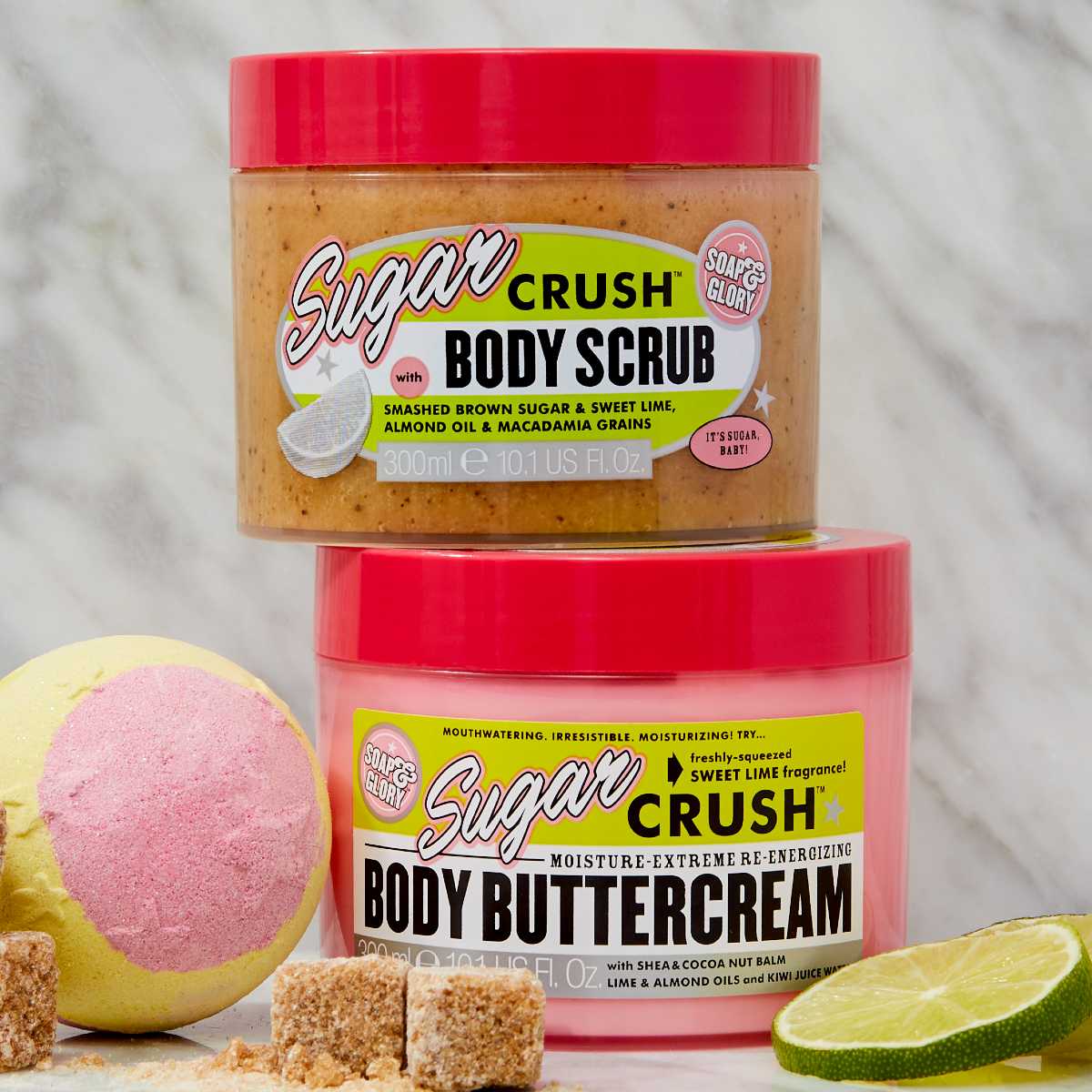 Anyone for a cocktail (at 7am)?
Start your day with a cocktail of crushed brown sugar combined with a revitalising, zesty blend of fresh, citrus lime and mandarin. With a flamboyant heart of jasmine and a base of utterly yummy vanilla crème brûlée. Always wanted to start the day with a mojito (and keep your job)? Well now you can.
Top: Lemon, Kaffir Lime
Heart: Juicy Mandarin & Elemi*, Jasmine & Smashed Brown Sugar
Base: Sweet Vanilla & Musk
(*A spicy incense scent)

Sugar Crush™ favourite: Sugar Crush™ Body Scrub