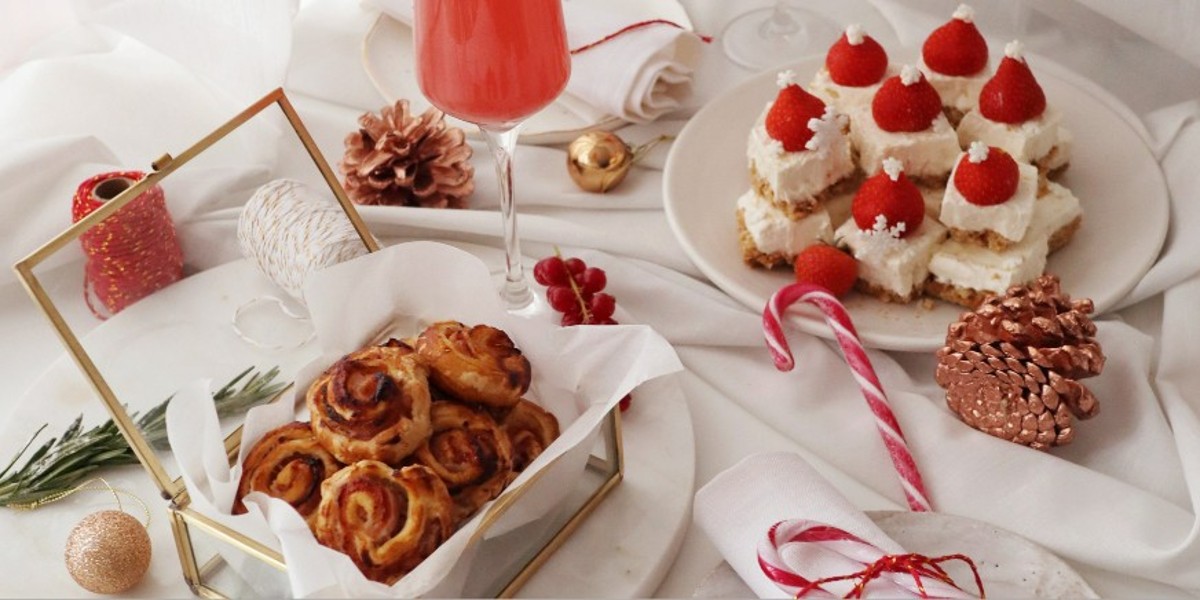 4 FESTIVE FOOD & DRINK RECIPES BY THE LAZY FOODIE
Christmas is just around the corner, and whether we will be celebrating with our friends, family or even alone at home, we all deserve something fun and glamorous!
Here are 4 quick and simple recipes for some festive drinks, nibbles and desserts, along with styling tips to add that extra sparkle this year!
1. DRINKS – CHRISTMAS SNOW GLOBE MIMOSAS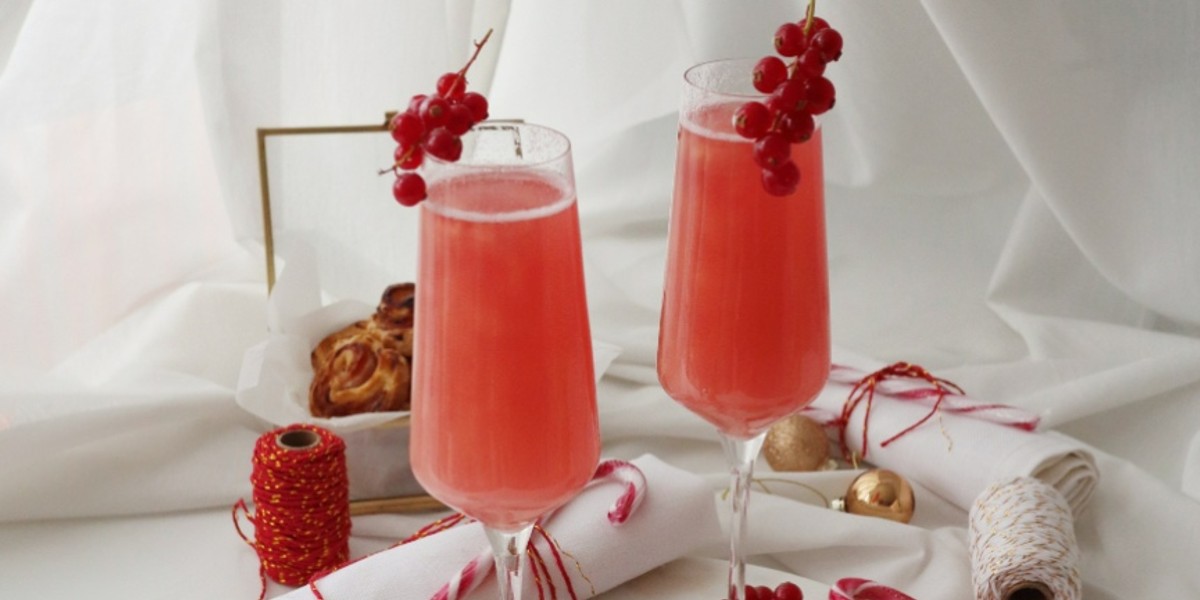 This is a twist on classic brunch mimosas using cranberry juice. For the extra glittery effect, add some edible shimmer before pouring your bubbly to turn the drink into an eye-catching snow globe!
You can also decorate with fresh cranberries and rosemary. To add that extra snowy effect, lightly dust with some icing sugar before garnishing.
You'll need:
cranberry juice
prosecco or champagne
edible shimmer
redcurrants or rosemary to garnish
icing sugar to dust
Method:
Fill the glass up to 1/4 with cranberry juice
Add 1/4 teaspoon of edible shimmer per drink
Top up with prosecco and watch the shimmer!
Dust the redcurrants or rosemary with icing sugar and garnish on top.
2. STARTER – MINI BACON AND MAPLE PASTRY PIN WHEELS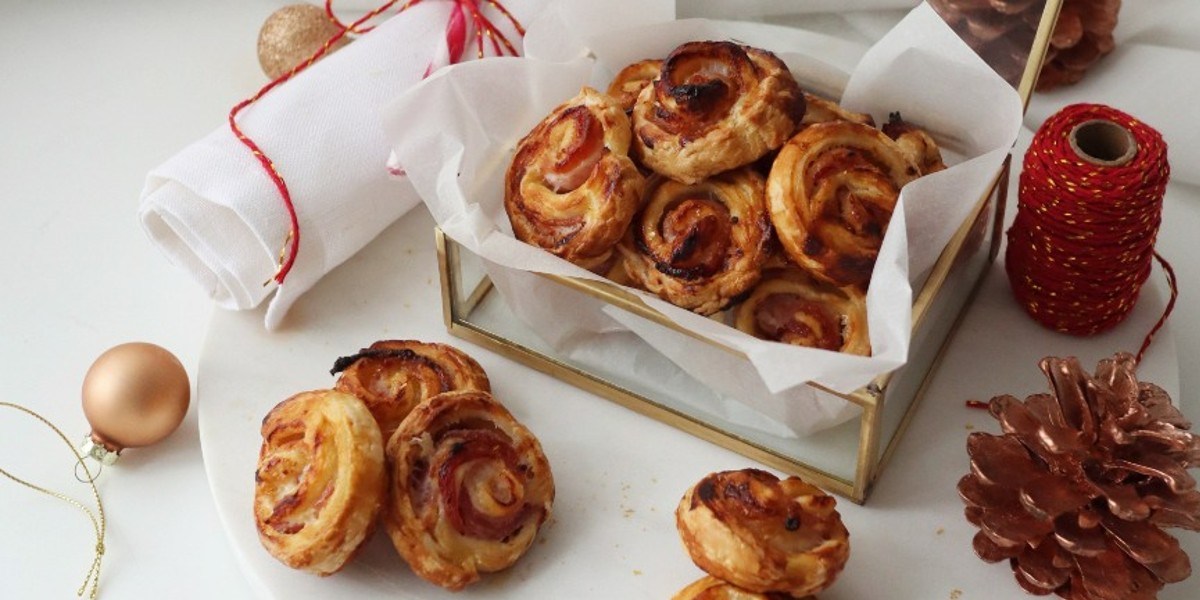 Something that goes really well with the mimosas are these bacon and maple pastry pin wheels. They are savoury, sweet and crispy – these can work as canapés or even as a late-night snack to share around over Christmas films!
These are very easy to make so you can quickly roll up and pop in the fridge until you're ready to cook them.
Makes 25 to 30 pin wheels
You'll need:
1 sheet of puff pastry
275g streaky bacon, about 16 rashers
some maple syrup
1 egg, lightly beaten
Method:
Open up the puff pastry and cut into half, about 20cm x 20cm
Lay the bacon rashers from one side of the puff pastry square to the other, leaving about 2cm space. Cut off excess bacon if needed.
Once you have lined the pastry square with bacon, roll tightly from the side where the bacon touches the pastry. Wrap up the rolls tightly in cling film or baking paper and let it chill in the fridge for at least 30 mins or overnight.
Preheat the oven to 220 C/ 200 C Fan/ Gas Mark 6
Remove the rolls from the fridge and out of the baking paper. Cut rolls length wise (about 2cm thick) and transfer onto a lined baking tray, leaving 2cm space in between each roll.
Lightly drizzle maple syrup on top, and brush with egg.
Bake for 15-20 mins until golden brown and rest for 5 mins before serving.
3. DESSERT 1 – SANTA'S HAT NO-BAKE CHEESECAKE BITES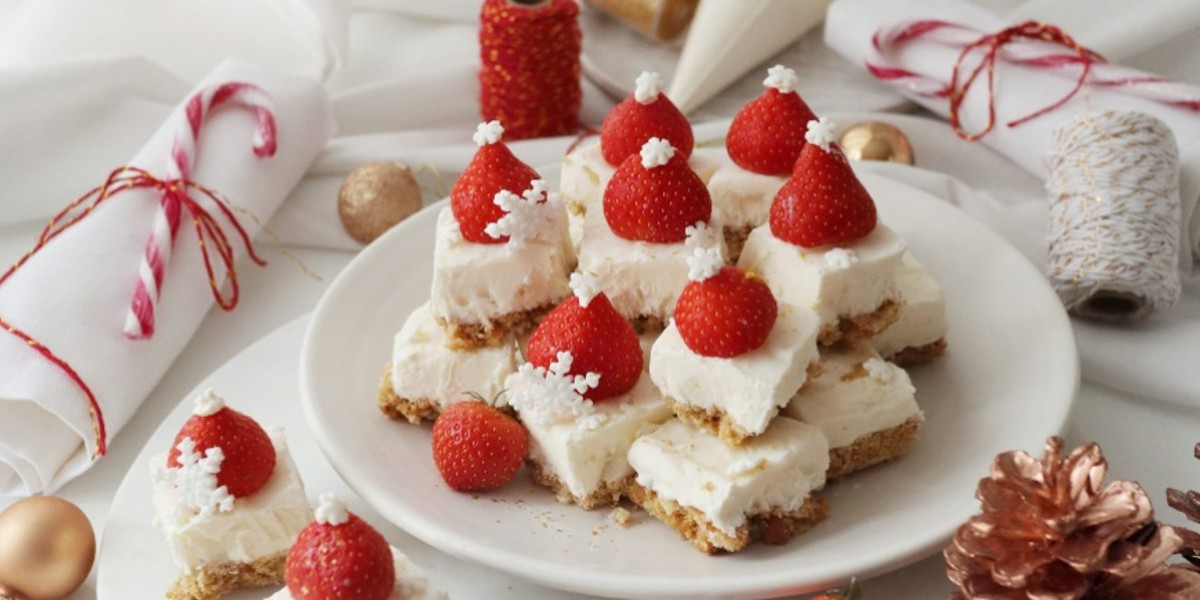 Every dinner party has to end with something sweet. These Santa's hat no-bake cheesecake bites take no effort to whip up, look incredibly cute and will please everyone!
You can decorate the cheesecakes however you want; the easiest way is to pipe some whipping cream at the tip of each strawberry to resemble a hat. You can also use icing sugar or melted white chocolate, or add any other festive decorations! This is a fun activity for both kids and adults, plus, they taste delicious!
Makes 12 to 16 cheesecake bites
You'll need:
200g digestives
100g unsalted butter
a 20cm x 20cm square baking tin
300g cream cheese
80g caster sugar
1 tsp vanilla extract
200g Greek yoghurt
Small strawberries
100ml double cream
Method:
Line the baking tin with baking paper, leaving at least 1 cm overhang at the sides.
Melt the butter by microwaving over the lowest setting.
Crush the digestives by putting in a zip lock bag and rolling with a rolling pin until it resembles sand.
In a mixing bowl, add the digestive crumbs and the melted butter. Mix until the digestives now look like wet sand.
Pour the butter and digestive mixture into the lined baking tin and spread evenly. Using the back of a spoon, push the crumbs against the bottom of the pan until it forms a solid crust. Cover with cling film and refrigerate for at least 30 minutes.
Meanwhile, cream the cream cheese and sugar with a whisk in a large mixing bowl until smooth. Add the vanilla extract and Greek yoghurt and whisk until well mixed.
Pour the cream cheese mixture over the now set crust. Use a spatula and smooth over the top. Cover with cling film and refrigerate overnight.
Before serving, remove the cheesecake onto a plate or serving board by lifting the baking paper and cut into 12 to 16 small squares.
Remove the stems from the strawberries and place one strawberry upside down onto each cheesecake square.
Whisk up some double cream until stiff peaks, spoon into a piping bag, cut a small tip and add a small ball of whipped cream onto each strawberry to resemble a Santa's hat. Add other festive decorations and serve!
4. DESSERT 2 – CHRISTMAS RED VELVET TRUFFLE BITES
Makes 15-20 truffle bites
You'll need:
130g red velvet cake mix
60g flour
30g caster sugar
110g melted butter
300g white chocolate chips
crushed candy canes or other decorations of choice
Method:
In a large mixing bowl, add the cake mix, flour, caster sugar and melted butter. Mix with a spatula or wooden spoon until the mixture resembles a cookie dough. You may wish to use your hands to help.
Pick up a small ball of dough and roll between your palms until it forms a smooth ball. Place onto a lined baking tray.
Cover the tray with cling film and freeze for 30 mins.
Meanwhile, in a heatproof bowl, melt the white chocolate chips by heating over low power in the microwave, about 30-60 seconds. Microwave for longer if needed.
Remove the chilled dough balls from the freezer. Place one ball on a fork and dip into the melted white chocolate. Lift the fork and gently tap against the side of the bowl to remove the excess white chocolate.
Carefully place the truffle onto a lined baking tray.
Decorate the truffles and place back to the freezer until the white chocolate sets.
Watch the video below to see just how easy they are!